To download our 2021 Water Conservation Calendar, click HERE
---
Outdoor Water Restrictions
The Georgia Water Stewardship Act went into effect statewide on June 2, 2010. It allows daily outdoor watering for purposes of planting, growing, managing, or maintaining ground cover, trees, shrubs, or other plants only before 10 AM and after 4 PM by anyone whose water is supplied by a water system permitted by the Environmental Protection Division.
Currently Gainesville water customers are in a non-drought state. It allows daily outdoor watering for purposes of planting, growing, managing, or maintaining ground cover, trees, shrubs, or other plants only before 10 AM and after 4 PM by anyone whose water is supplied by a water system permitted by the Environmental Protection Division.
A few of the outdoor water uses are allowed daily at any time of the day by anyone:
Capture and reuse of cooling system condensate or storm water in compliance with applicable local ordinances and state guidelines;
Irrigation of personal food gardens;
Irrigation of new and replanted plant, seed, or turf in landscapes, golf courses, or sports turf fields during installation and for a period of 30 days immediately following the date of installation;
Drip irrigation or irrigation using soaker hoses;
Hand watering with a hose with automatic cutoff or handheld container;
Irrigation of athletic fields, golf courses, or public turf grass recreational areas;
---
For more water conservation information, see the following websites:
http://mydropcounts.org/
http://mydropcounts.org/conserve-our-water/

LAKE LANIER WATER LEVEL
1,070.32
Feet MSL
December 4, 2020
1:15:00 PM
Level is 0.68 feet
below full pool of 1,071.00
Why is Conserving and Protecting Our Water So Important?
The City of Gainesville currently provides 17.1 million gallons of water a day on average from Lake Lanier to residents of Gainesville and Hall County. By 2030, the area's population is projected to almost double. With the projected increases in demand, we must conserve our water to ensure an adequate supply in the future. We are also working to keep our water supply clean and free from contaminants while maintaining healthy aquatic habitat in our rivers and streams, which flow into Lake Lanier. Eighty percent of the pollutants found in our waterways are from non-point sources or storm water runoff. Each time it rains, water runs off surfaces (such as roads, parking lots and lawns) and goes into storm drains that lead directly to our waterways, without treatment. This storm water carries with it fertilizers, trash, oil and various other pollutants. Through monitoring, education and community involvement, we are working to protect and conserve our most precious resource - WATER. The City of Gainesville has a Stormwater Management Program or SWMP that establishes different measures that the city uses to reduce the pollutants in stormwater and engage the community. The City's stormwater discharge is regulated through the Phase II MS4 permit issued by Georgia EPD. A new permit became effective on December 6, 2017. Due to this new permit, the City's SWMP will be updated in the coming months to comply with the new requirements. Check back for additional information as the SWMP is updated.
Water Conservation Resources
The City of Gainesville Department of Water Resources has been completing environmental monitoring and public education around our water resources since 1987. Since the program's inception, the city has won numerous awards and recognitions including being certified in 2008 as a 'WaterFirst' Community. The City of Gainesville is one of only twenty eight municipalities to receive this prestigious title.
Education Videos
Department of Water Resources - Drinking Water Treatment from City of Gainesville Georgia on Vimeo.
Department of Water Resources - Waste Water Treatment from City of Gainesville Georgia on Vimeo.
Available Programs
The City of Gainesville Environmental Services Division offers many programs that are available to all city and county residents and customers.
Environmental Monitoring
Each week, Environmental Specialists perform visual inspections along area streams and routinely collect chemical data. This information allows the City to assess the health of our waterways and address any sources of pollution that might be present. Most importantly, this monitoring allows the City to quickly know if there is a problem.
Adopt-a-Stream Program- This state-wide program allows community groups of all ages to receive chemical, biological and visual training to 'adopt' any stream or stream segment that is not currently being monitored. After training, groups can monitor their waterway throughout the year to ensure that it remains healthy.
Annual Stream Cleanup- Each year, a stream cleanup is held at various sites to remove litter and other debris that have been thrown or washed into the waterways. In the past, shopping carts, tires, car parts and even toilets have been found. Look for more information about this year's cleanup in August.
Education Programs
To request an Education Program / Presentation click HERE:
Presentations in Local Schools and Community Groups – Each year, over 200 presentations are given to classrooms and community groups. Presentations are offered to all ages and can be tailored to any curriculum or agenda. In the past, lessons have been given on water conservation, environmental assessments, storm water pollution, and the water and wastewater treatment process. These lessons can be hands on or lecture based.
Conservation Crusader- Gainesville's very own superhero. Conservation Crusader visits elementary students and adult groups to spread the word about the importance of water conservation. He can even be seen around town from time to time.
Storm Drain Stenciling- Environmental Specialists accompany citizen groups to spray paint "no dumping drains to stream" (In English and Spanish) signs on area storm drains. These drains are not treated before they discharge into streams and these signs act as a reminder that waste should not be poured down the drains.
Drinking Water and Water Reclamation Facility Tours- These group tours offer a firsthand look into how your drinking water or waste water is treated.
Water Conservation Programs
Find-a-Leak Workshop Available Online - Water bill increase unexpectedly? You may have a leak. Watch the find-a-leak workshop online to determine if and where you have a hidden water leak. Step-by-step instructions are also available to walk you through your home. You can find them HERE.
Request a Water Conservation Kit Today! These free kits include the following water efficiency devices: a conservation shower head, two bathroom sink aerators, a kitchen aerator, and dye tablets that are used to detect if your toilet is leaking.
FREE Home and Commercial Water Assessments- These free assessments are available to all residential and commercial customers. A Water Conservation Specialist will come to your home or business and determine how much water is currently being used and how water can be conserved. Save water and money by having your faucet aerators, toilets, showerheads, and possible leaks assessed.

Toilet Rebate Program - Participate in North Georgia's first Plumbing Retrofit Program. Any single-family residential customer, whose home was built prior to 1993, can replace older model toilets with new water efficient models and receive a 75 dollar credit per toilet replaced. The credit is applied to the applicant's City of Gainesville water bill. Only high efficiency toilets that are 1.28 gallon per flush (gpf) or less will be eligible for the credit. Rebate applications must be accompanied with an original receipt. Applications can be completed online by clicking HERE. If a family of four each flush the toilet four times a day and replace one 3.5 gpf toilet with a 1.28 gpf toilet, they can save approximately 35 gallons of water a day or 12,775 gallons a year. If you prefer to mail in your application, click HERE for a printable version.
NEW! Multi-Family/Commercial Toilet Rebate Program- To participate in this rebate program, please see the requirements information sheet HERE.
Water Heater Rebates available from your local power provider- Jackson EMC | Georgia Power
Building a home? Make it a WaterSense Home!
Click on the image below to learn how to make your new build as water-efficient as possible.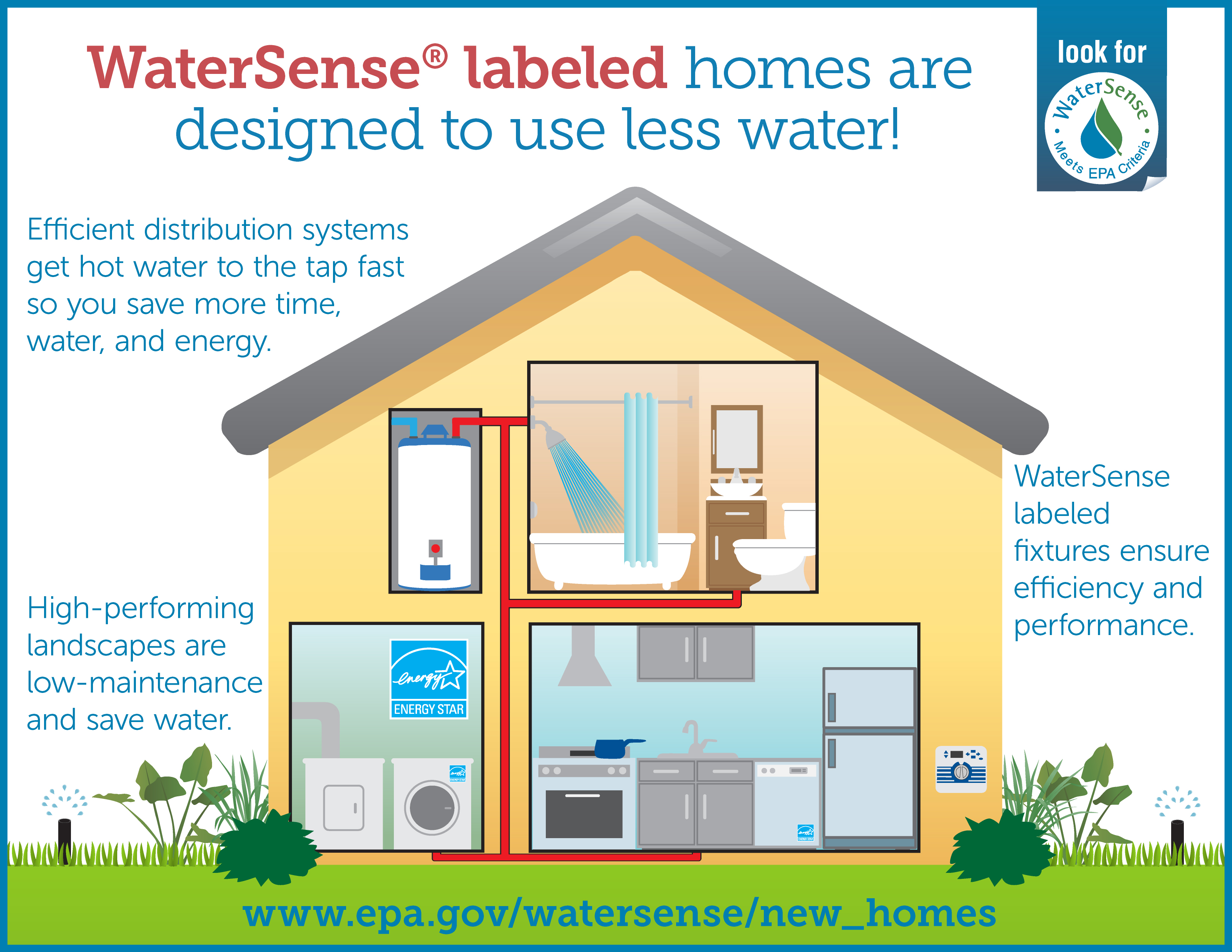 Want to get involved? Schedule an educational presentation, water assessment for your home or business, take part in a rain barrel workshop, become a part of Adopt- a-Stream, attend the cleanup, or host Conservation Crusader. Please contact Water Resources' Public Education Program at 770-532-7462 or email kredmon@gainesvillega.gov for more information on the programs that are offered. Don't see exactly what you are looking for? We still may be able to help.
Click here for a list of other helpful water resources websites.
Erosion, Sedimentation and Illegal Dumping Hotline 770-533-7420